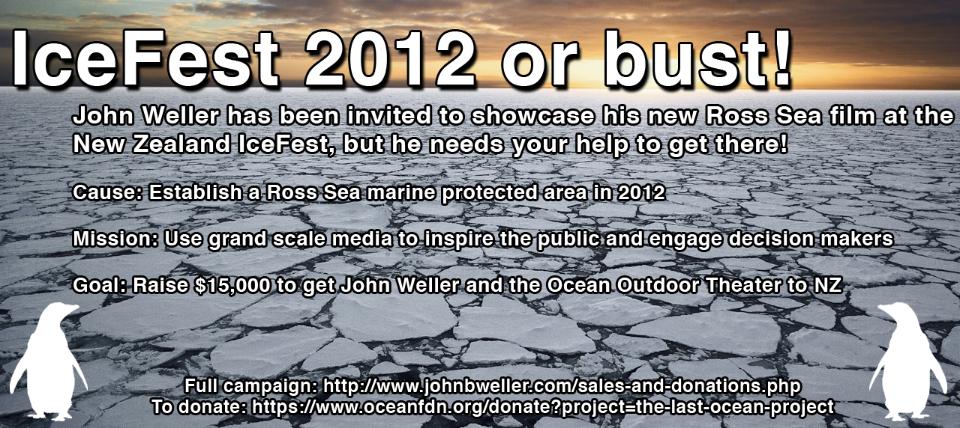 The Ross Sea is the last intact large marine ecosystem left on the planet and we are so close to seeing it granted full protection. But we need your help!
John Weller, founder of the Last Ocean and the Ocean Voice has been invited to show his film, The Ross Sea: Keystone to Global Change at Icefest this year on the Ocean Outdoor Theater. This film features John's critically-acclaimed photography and takes us from the Arctic to the Antarctic and the remote reaches of the Pacific and Caribbean Islands to put the Ross Sea in a global context.
Ever heard of IceFest? This month long event brings together people from all over the world to celebrate New Zealand's connection with Antarctica. This free event is being held in Christchurch, New Zealand with attractions such as a gigantic ice-skating rink, an igloo bar and plenty of food to go around. In addition, leading scientists and conservationists will be giving presentations to the public on leading issues surrounding Antarctica.
The release of this film at IceFest comes at a key time and in a key place.
This fall, the Commission for the Conservation of Antarctic Marine Living Resources (or CCAMLR) is coming together to potentially decide the fate of the Ross Sea, Antarctica. Meanwhile, New Zealand leads a fishery for toothfish in the Ross Sea. But with enough public pressure, perhaps we can change this.
John will be showcasing the Ross Sea film on the Ocean Outdoor Theater for an entire week at IceFest. The theater, and John's stunning imagery and storytelling, will be too big and loud to ignore.
Sounds great, right? Well, here's the kicker: John Weller needs your help to get to New Zealand for IceFest.
In order to showcase his film, John will utilize the Ocean Outdoor theater. The theater, which is comprised of a 24-foot wide screen, a 10,000 lumen bluray projector, and full sound system, will cost roughly $5,000 to ship to NZ. An additional $10,000 is needed for travel and final production of the film.
Where does that leave us then?
John needs $15,000 to show his film at this FREE event. And we need it fast! We will be taking donations starting today, until the end of September. Every dollar helps! Anyone who donates will be given an invitation to a meet and greet session with John Weller at IceFest 2012 (invitees will need to provide their own travel to the event). Donations received above $500 will be given the honor of being included in the credits of the film, letting the audience know their contribution helped get the film to IceFest.
So, we have a cause. We have a mission. We have a goal.
It's either Icefest 2012 or bust!
THE LAST OCEAN EXHIBIT AND LIMITED EDITION ROSS SEA PRINTS
I am proud to present limited edition prints of my Ross Sea imagery. Each image is available as a total edition of 50 Chromira prints. Twenty-four-inch and forty-inch prints are available in each edition. Expert partners West Coast Imaging in Oakhurst, California and Silver Leaf Framing in Boulder, Colorado will print, mount, mat, and frame the images.
Prints are pressure-mounted to and matted in eight-ply rag mat. The images are presented in a classic, yet contemporary style with a half–inch gutter between the edge of the mat and the edge of the borderless photograph, meaning that the whole photograph is visible.
I chose an equally classic contemporary stained walnut frame with a two-inch depth for the Last Ocean Exhibit, sponsored by and opening at the National Museum of Wildlife Art in Jackson Hole, Wyoming. A recessed hanging system completely hugs the wall, and thus the frames look like inset windows. This fine framing is also available.
We will donate 5% of each print sold through the opening exhibition in Jackson Hole to the National Museum of Wildlife Art.
For all inquiries, please contact me.